Contact Us for a Rate Quote
Phone: 718-928-4186
Email: 
SambaNovoNYC@gmail.com
Hire Samba Dancers, Drummers, Jumbies, Capoeira and More!
FAQs
Can I hire Samba Dancers near me?
Yes, Samba Novo is available to travel anywhere within the United States and abroad. For more information or bookings, give us a call, email, or complete the contact form. We will respond quickly.
What kind of costumes do Samba Dancers wear?
Dancers wear the classic Brazilian bikini with feathered head pieces and back pieces. For more conservative parties dancers can wear skirted costumes or full samba dresses.
How long is a show?
We never time the shows because each show is different. It really depends on audience reaction, we basically go with the flow of the party.
How many performers are in a group?
You can hire from 2 samba dancers to an entire troupe of dancers, drummers, Jumbies and Capoeira.
Popular packages:
3 Dancers and 3 Drummers 
4 Dancers and 4 Drummers with 2 Jumbies 
4 Dancers and 4 Drummers with 2 Capoeira Performers
How soon should I book?
ASAP, to secure exactly what you are looking for.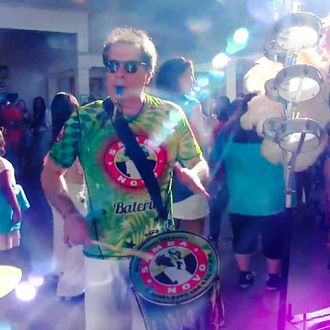 Ron DeFrancesco
Director / Founder